10 Things to Do to Get OUT of Unemployment!
Kiratian Freelon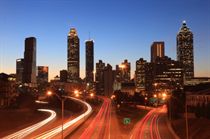 1) Join and be active in local minority career organizations. From the National Association of Black Accountants to the National Association of Black Journalists, there are African-American organizations for almost every career path. These organizations provide a powerful combination of education, advocacy, and networking that can lit a fire to anyone's career. But it's your involvement at the local level that will be the most beneficial to your career. To get involved quickly, start attending meetings and join a special committee that has a large project to implement in the near future. As your involvement increases you'll start to get early leads on jobs and develop relationships with people who can impact your career. 
2) Attend national conferences and meetings of national career organizations. African American career organizations have national and regional conferences that bring together the best people in the industry. These events are great for connecting with three types of people: 1) Leaders in your industry--the people at the top who can help you as you progress in your career. 2) Industry peers-- people at a similar stage in your career.  3) Employers--the people who set up shop in the career fair.  It can be a large monetary investment to register and travel to the conference. But if money is an issue, reach out to the organizer and ask to become a volunteer for the conference. 
3) Create and finetune your online presence. The first thing that employers do today when they come across your resume is google you. Therefore the first thing you should do when you become unemployed is to create or finetune your online presence. This means perfecting your LinkedIN and Facebook profiles. It also means paying close attention to what comes up in your google search profile. It will be difficult to hide negative items in the google search, but you can attempt to push them down. This involves writing high profile articles and creating new social media profiles. 
3) Give back in time or expertise. Have you ever heard of the saying, "what goes around comes around?" Unemployment usually leaves one in a position of need. But what about helping other people during this time? Each week you are unemployed make it your goal to help someone or an organization with your time or skills. The giving is sure to pay off in the future. 
4) Become a digital native. A digital native is a person who grew up with the technology that dominates the news headlines and the lives of "millennials." The use of technology is so natural to them that they integrate it into all aspects of their lives. To become a digital native, read publications like mashable.com, fastcompany.com, and wired.com daily. These publications will get you up to speed on the newest gadgets and apps quickly. But the key to becoming a "native" is implementing them and becoming an early adopter. 
6) Invest in expert assistance for resumes and interviews. It's best to seek help in writing a professional resume that will get you attention from recruiters.  A professional interview coach can help you seal the deal once you land the coveted job interview. Do it early in your search so you won't miss out on employment opportunities. 
7) Seek a mentor. Few people find mentors organically. The rest of us must be deliberate about our search for someone who can give us advice and help mold our careers. There is no better time to do this than in a period of unemployment. The key to finding a good mentor is seeking someone who has similar career goals but who is further along in their career. This person must also have the time to invest in the relationship. This does not mean the mentor should drive the relationship. You should drive the relationship, since you are ultimately the person who will benefit from it.  
8) Find an accountability partner. Unemployment can be a lonely unguided path with lots of goals and unmet expectations. But it doesn't have to be like that. An accountability partner is someone who makes sure that you stay on track toward your employment goals. Unlike a mentor, this person is a fellow struggler who may be also unemployed or recently went through the unemployment experience. This person checks in with you daily or weekly. This person won't allow you to make excuses and to procrastinate. 
9) Network and Build Diverse relationships. It's difficult enough to network with other African-Americans within your industry but it's also very important to build diverse relationships. In order to do this, join professional organizations geared toward women, and the general market. You never know whom you might be able to help and vice versa. 
10) Boost your resume. Unemployment is also a time when your resume can improve in unique ways. During this time you can learn a new language, take an improv class, create a blog, or take a class directly related to your career. Make sure to list these items in an appropriate place on your resume. 
Kiratian Freelon  researches and writes about job search strategy, career management, hiring trends and workplace issues for Black Careers.

Subscribe
|